As part of the Unified Community Platform project, this wiki and 38 others will be migrated to the new platform in the next few weeks. Minimal changes are expected as part of this migration. Read more here.
placa de circuito avançado
placa de circuito avançado


Mod
GregTech 5
Tipo
Componente
peças de circuito Avançadas são um componente utilizado no fabrico de GregTech 5 Circuitos Avançado.
Receita
peças Circuito Avançados são criados no Formando Prima.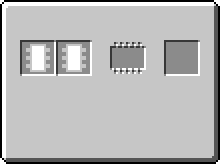 EU: 1600
Time: 40 secs
MaxEnergy: 2 EU/t