agriculteur
---
agriculteur





Mod
Automation progressive
Type
Machine
""Agriculteurs sont des machines dans Automation progressive.Elles consomment des articles d'aliments pour provoquer la reproduction des animaux paisibles à proximité.
Recette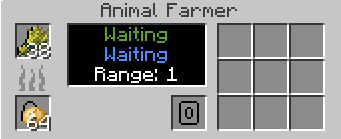 Fonctionnement
Comme toutes les machines d'automatisation progressives; Animal Farmers peut consommer n'importe quel carburant standard des Furnace ou des Potato pour fonctionner. Alternativement, si les Redstone Flux sont disponibles, le RF Engine pourra être placé dans le slot des carburants qui consommera ces RF plutôt que les carburants. L'Animal Farmer peut utiliser 40 RF/t et stocker 40000 RF. L'Animal Farmer n'utilise aucun outil pour opérer; à la place il brule de la nourriture servant à nourrir les animaux. Le requis en nourriture dépend des animaux qui doivent être nourris, en accord avec les mécaniques originelles de Minecraft.
L'interface de l'Animal Farmer contient 3 slots d'entrée (Nourriture; Carburant, Upgrade), une grille de 3x3 de sorties, un indicateur de consomption du carburant et une zone d'affichage d'informations. Les Upgrades placés dans le slot des Upgrades ne seront pas de suite consumés. Lorsqu'il est inactif, l'écran affichera pourquoi l'Animal Farmer n'est pas actif actuellement. Quand il est actif, l'affichage indique si l'éleveur nourrit activement les animaux ou s'il attend que les animaux terminent leur temps de recharge. Étant donné qu'un Animal Farmer passera probablement la plus grande partie de son temps à attendre le temps de recharge de l'élevage, il peut être utile de régler les minuteurs pour les alimenter ou les alimenter périodiquement.
L'Animal Farmer se place au même niveau que les animaux qu'il doit nourrit.
Animal Farmers will attempt to automatically output any items in their output slots into adjacent inventories. This behavior can be changed on a side-by-side basis with the PA Wrench to allow sides to accept new Fuel or Tools, allowing the Animal Farmer to potentially be completely automated.
Two special upgrades can be used in the Animal Farmer: the Milker Upgrade and the Shearing Upgrade. Each of them add an additional slot to the Farmer's GUI. The Milker Upgrade adds a slot for empty Buckets, which the Farmer will attempt to use on Cows to collect Buckets of Milk. The Shearing Upgrade adds a slot for Shears, which the Farmer will use to collect Wool from Sheep. Note that without one of these upgrades, an Animal Farmer will never collect any items; if a user wanted to create an automated animal farm they would require at least one Killer as well.