Fazendeiro de animal
---
Fazendeiro de animal





Mod
Automação progressiva
Tipo
Máquina
Fazendeiro de animal são máquinas em Progressive Automation. Eles consomem alimentos para causar animais nas proximidades pacíficos para se reproduzir.
Receita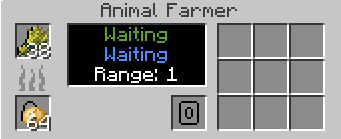 Usage
Like all Progressive Automation machines, Animal Farmers can consume any standard Furnace fuel, or Potatoes, to function. Alternatively, if Redstone Flux is available, the RF Engine can be placed in the Fuel slot to consume RF in stead of fuel. By default (configurable), Animal Farmers consume 40 RF/t and can hold 40,000 RF. The Animal Farmer does not use tools to operate; in stead it consumes food items to feed peaceful animals. The food required depends on the animals being fed, in accordance with conventional Minecraft breeding mechanics.
A GUI do Fazendeiro animal contém 3 espaços de de entrada (alimentação, combustível, Upgrade), uma grade de 3x3 de ranhuras de saída, um indicador de consumo de combustível, e uma área de exibição de informação. Upgrades colocados no compartimento de atualização será imediatamente consumido. Quando inativo, o display mostrará por que o Fazendeiro Animal não está ativo atualmente. Quando ativo, o display mostrará se o agricultor animal está ativamente alimentação de animais ou é "Esperando" para animais de terminar seus recargas de reprodução. Porque um Fazendeiro animal provavelmente vai gastar muito do seu tempo ocioso à espera de recargas da reprodução animal, pode ser útil para definir os temporizadores para único combustível ou ligá-lo periodicamente.
O animal de exploração é colocado no mesmo nível que os animais se para alimentar.
Animal Farmers will attempt to automatically output any items in their output slots into adjacent inventories. This behavior can be changed on a side-by-side basis with the PA Wrench to allow sides to accept new Fuel or Tools, allowing the Animal Farmer to potentially be completely automated.
Two special upgrades can be used in the Animal Farmer: the Milker Upgrade and the Shearing Upgrade. Each of them add an additional slot to the Farmer's GUI. The Milker Upgrade adds a slot for empty Buckets, which the Farmer will attempt to use on Cows to collect Buckets of Milk. The Shearing Upgrade adds a slot for Shears, which the Farmer will use to collect Wool from Sheep. Note that without one of these upgrades, an Animal Farmer will never collect any items; if a user wanted to create an automated animal farm they would require at least one Killer as well.