As part of the Unified Community Platform project, this wiki and 38 others will be migrated to the new platform in the next few weeks. Minimal changes are expected as part of this migration. Read more here.
Array
Array


Mod
Practical Logistics 2
Type
Solid block
Technical details
Registry name
practicallogistics2:array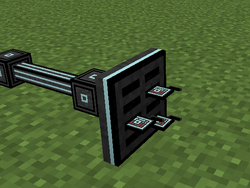 The Array is a block added by Practical Logistics 2. It is used to wirelessly connect blocks to a network. To connect a block to a network through an Array, a Transceiver must be placed in the Array, provided the Transceiver has already connected to another block. The Array can hold up to 8 different Transceivers in it's inventory, each creating a new channel in the network.
Practical Logistics 2
 

Blocks

Readers

·  ·  ·  ·

 

Nodes

·  ·  ·

 

Displays

·  ·

 

Wireless

·  ·  ·  ·

 

Misc

·  ·  ·  ·

 
 

Items

Wireless

·  ·

 

Plates

·  ·  ·

 

Misc

·