Autocrafting Unit
Autocrafting Unit


Mod
Factory Tech
Type
Machine
Properties
Blast resistance
12
Hardness
4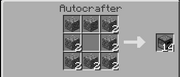 The Autocrafting Unit is a machine added by Factory Tech. Given items in the shape of a valid recipe, the Autocrafting Unit will craft the recipe. The Autocrafting Unit can accept items via an Insertion Hatch or via other modded item transport ducts and pipes.
The crafting grid also serves as the inventory.
The Autocrafting Unit automatically balances stacks and will not craft if doing so would destroy the recipe, unless ingredients do not stack.
Any items leftover after crafting (e.g. empty buckets after crafting Cake) are dropped into the world on top of the Autocrafter.
Crafting Slot Blockers placed in the grid are ignored.
Factory Tech
 

Materials

Ores

·

 

Dusts

·  ·  ·  ·  ·  ·  ·  ·  ·  ·

 

Ingots

·  ·  ·

 

Fluids

·  ·  ·  ·

 

Decorative Blocks

·  ·  ·  ·  ·  ·

 
 

Tools and Apparel

Tools

·  ·  ·  ·  ·

 

Workwear

·  ·  ·

 
 

Machinery

Components

·  ·  ·  ·  ·  ·  ·  ·  ·  ·  ·  ·  ·  ·  ·  ·  ·  ·  ·  ·  ·  ·  ·  ·  ·  ·  ·  ·  ·  ·  ·  ·  ·  ·

 

Component Parts

·  ·  ·  ·  ·  ·  ·  ·

 

Worn Components

·  ·  ·  ·  ·  ·  ·  ·  ·  ·  ·

 

Machines

·  ·  ·  ·  ·  ·  ·  ·  ·  ·  ·  ·  ·  ·  ·  ·  ·  ·  ·  ·  ·  ·  ·  ·  ·  ·  ·  ·  ·  ·  ·  ·

 

Automation

·  ·  ·  ·  ·  ·  ·  ·  ·  ·  ·  ·  ·  ·  ·  ·  ·  ·  ·

 

Upgrades

·  ·  ·  ·