Beetle
Beetle


Mod
The Erebus
Type
Friendly monster
Properties
Health points
15 ()
The Beetle is a passive mob added by The Erebus. They can be found in different colors: red, brown, blue, green, tan and a unique ladybug look, and constantly chirp. They can be bred using Turnips to produce a Beetle Larva.
It can be found in the Underground Jungle, Subterranean Savannah and Elysian Fields in the Erebus dimension, and has 15 (








) health points.
When killed, it drops 1-3 Exoskeleton Plates.
A Beetle can be milked like a Cow by right-clicking on it while holding a Bucket or a Bambucket. This produces a Bucket Of Beetle Juice or a Bambucket Of Beetle Juice, both of which have the same features as Milk.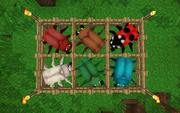 Beetles can spawn with random mob names. The available names are John Lennon, Paul McCartney, George Harrison, and Ringo Starr.
The Beetle was one of the first mobs to appear in The Erebus.
As of 0.1.2, Beetles have sounds, and can be bred.
The Erebus
 

Dimension

Biomes

Arthropods

Beetles

·  ·  ·  ·

 

Spiders

·  ·  ·  ·  ·

 

Miscellaneous

·  ·  ·  ·  ·  ·  ·  ·  ·  ·  ·  ·  ·  ·  ·  ·  ·  ·  ·  ·  ·  ·  ·  ·

 

Bosses
 

Blocks

Natural

·  ·  ·  ·  ·  ·  ·  ·  ·  ·  ·  ·  ·  ·  ·  ·  ·  ·  ·  ·  ·  ·  ·  ·  ·  ·  ·  ·  ·

 

Plants

Building

·  ·  ·  ·  ·  ·  ·  ·  ·

 

Ores

·  ·  ·  ·  ·  ·  ·  ·  ·

 

Utility

·  ·  ·  ·  ·  ·  ·  ·  ·  ·  ·  ·  ·  ·  ·

 

Miscellaneous

·  ·  ·  ·

 
 

Items

Basic

·  ·  ·  ·  ·  ·  ·  ·  ·  ·  ·  ·  ·  ·

 

Resources

·  ·  ·  ·  ·  ·  ·  ·  ·  ·  ·  ·  ·  ·  ·  ·  ·  ·  ·  ·  ·  ·  ·  ·  ·  ·  ·  ·  ·  ·  ·  ·  ·  ·  ·  ·  ·  ·  ·  ·  ·  ·  ·

 

Food

·  ·  ·  ·  ·  ·  ·  ·  ·  ·  ·  ·  ·  ·

 

Miscellaneous
 

Weapons, Armor and Tools

Weapons

·  ·  ·  ·  ·

 

Tools

·  ·  ·  ·

 

Jade

·  ·  ·  ·  ·  ·  ·  ·  ·

 

Exoskeleton

·  ·  ·  ·  ·  ·  ·  ·

 

Miscellaneous

·  ·  ·  ·  ·