As part of the Unified Community Platform project, this wiki and 38 others will be migrated to the new platform in the next few weeks. Minimal changes are expected as part of this migration. Read more here.
Blueprint Collection
Blueprint Collection


Mod
Factory Tech
Type
Book
Properties
Stackable
No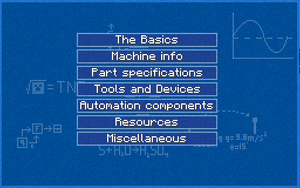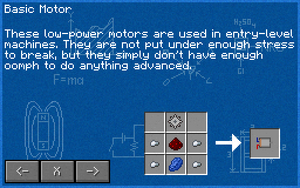 The Blueprint Collection is a book added by Factory Tech. It serves as the mod's in-game documentation and provides players with crafting recipes and descriptions of the mod's items and features.
Factory Tech
 

Materials

Ores

·

 

Dusts

·  ·  ·  ·  ·  ·  ·  ·  ·  ·

 

Ingots

·  ·  ·

 

Fluids

·  ·  ·  ·

 

Decorative Blocks

·  ·  ·  ·  ·  ·

 
 

Tools and Apparel

Tools

·  ·  ·  ·  ·

 

Workwear

·  ·  ·

 
 

Machinery

Components

·  ·  ·  ·  ·  ·  ·  ·  ·  ·  ·  ·  ·  ·  ·  ·  ·  ·  ·  ·  ·  ·  ·  ·  ·  ·  ·  ·  ·  ·  ·  ·  ·  ·

 

Component Parts

·  ·  ·  ·  ·  ·  ·  ·

 

Worn Components

·  ·  ·  ·  ·  ·  ·  ·  ·  ·  ·

 

Machines

·  ·  ·  ·  ·  ·  ·  ·  ·  ·  ·  ·  ·  ·  ·  ·  ·  ·  ·  ·  ·  ·  ·  ·  ·  ·  ·  ·  ·  ·  ·  ·

 

Automation

·  ·  ·  ·  ·  ·  ·  ·  ·  ·  ·  ·  ·  ·  ·  ·  ·  ·  ·

 

Upgrades

·  ·  ·  ·