Bound Helmet
Bound Helmet


Mod
Blood Magic
Type
Armor
Tooltip text
Devilish Protection
Properties
Durability
Infinite
The Bound Helmet is a helm added by Blood Magic. It is part of the Bound Armor set, and has infinite durability. However, it's ability to protect one from damage hinges on the amount of LP in one's Soul Network. If the wearer has a full set, the wearer will be protected from all physical damage, if the wearer has enough LP.
The Bound Helmet is created using Filled Sockets and a Soul Armour Forge. Instead of placing the sockets in a crafting grid, one must instead place them in the world, in a pattern like one would in the grid. Then, one must place the Soul Armour Forge below it and right click it.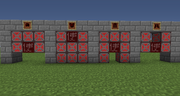 Like all pieces of Bound Armor, the Bound Helmet can be upgraded with Sigils and various other items during creation.
In order to temporarily disable the effects of Bound Armor, right click with a Armour Inhibitor. This will disable ALL of the effects of currently worn Bound Armor until the wearer right-clicks again.