As part of the Unified Community Platform project, this wiki and 38 others will be migrated to the new platform, with migrations beginning September 23rd at 7am CDT. Minimal changes are expected as part of this migration. Read more here.
Brake Handle
Das Brake Handle Modul (dt. Bremsgriff) ist ein Addon Modul für Miencarts in Steve's Carts Ermöglicht dem Spieler, eine fahrendes Minecart anzuhalten und seine Richtung umzukehren.
Rezept
Verwendung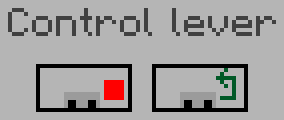 Beim Anbringen an einem Minecart mit dem Cart Assembler bietet der Bremsgriff die Möglichkeit, einen Wagen anzuhalten und umzukehren. Klicken Sie zum Starten und Stoppen des Wagens auf die linke Schaltfläche in der Benutzeroberfläche des Bremsgriffs. Im gestoppten Zustand verbraucht der Motor keinen Kraftstoff. Um die Richtung des Wagens umzukehren, klicken Sie einfach auf die rechte Schaltfläche in der GUI des Bremsgriffs.
Komplimentäre Module
Steve's Carts
 

Blöcke

Maschinen

·  ·  ·  ·  ·

 

Schienen

·

 

Detektoren

·  ·  ·  ·

 

Lagerblöcke

·  ·

 
 

Cart Modules

·  ·  ·  ·  ·  ·

 

·  ·  ·  ·  ·  ·  ·

 

·  ·  ·  ·  ·  ·  ·  ·  ·  ·  ·  ·  ·  ·  ·  ·  ·  ·  ·  ·  ·

 

·  ·  ·  ·  ·

 

·  ·  ·  ·  ·  ·

 

·  ·  ·  ·

 

·  ·  ·  ·

 

Anderes

·  ·  ·  ·  ·  ·  ·  ·  ·  ·  ·  ·  ·  ·  ·  ·  ·  ·  ·  ·  ·  ·  ·

 
 

Komponenenten

Galgadorian Metal

·  ·  ·  ·

 

Reinforced Metal

·  ·  ·  ·

 

Scheiben

·  ·  ·  ·  ·  ·  ·  ·  ·  ·  ·

 

Räder

·  ·  ·

 

Sägeblätter

·  ·

 

Andere Modulkomponenten

·  ·  ·  ·  ·  ·  ·  ·  ·  ·  ·  ·  ·  ·  ·  ·  ·  ·  ·  ·  ·  ·  ·  ·  ·  ·  ·  ·  ·  ·

 
Upgrades
·  ·  ·  ·  ·  ·  ·  ·  ·  ·  ·  ·  ·  ·  ·  ·  ·  ·  ·
 

Saison-/Werbeartikel

Halloween 2012

Weihnachten 2012

Lagerung

Addons

·

 

Mobs

Komponenten

·  ·  ·  ·  ·  ·  ·

 

Ostern 2013

Lagerung

Komponenten

·  ·  ·  ·  ·

 

Child's Play