Crusher (Immersive Engineering)
This page is about the Crusher added by Immersive Engineering. For other uses, see Crusher.
Crusher


Mod
Immersive Engineering
Type
Multiblock structure
Energy
Max RF input
256 RF/t
RF use
80 RF/t
RF storage
32,000 RF
The Crusher is a 3x5x3 multi-block added by Immersive Engineering. It is used for crushing Ores into Grit (Dusts), which is more efficient than normal smelting.
The Crusher is relatively complicated to make. It uses:
Before 0.8 (before Minecraft 1.8)
[
edit
|
edit source
]
This information pertains to an older version of the mod.
The Crusher is relatively complicated to make. It uses 10 Steel Scaffoldings, 11 Light Engineering Blocks, 8 Steel Fences and 9 Hoppers.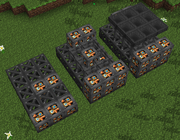 After it is fully arranged, the player must right-click the center of the front of the longer side (which should be a Steel Fence with a Hopper above it) with an Engineer's Hammer, then the multi-block is complete.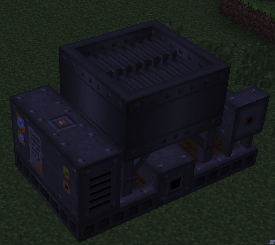 The Crusher does not have a GUI. Redstone Flux (RF) is inputted through the top of the multi-block, through the block shown below.
When a mob or item is dropped into the center pit, the crushing process will start. After a few seconds, the crushed items will be dropped out of the front-bottom-center. If there is an inventory there (like a Chest), it will simply be placed into that inventory.
When a Mob is crushed, the Crusher will kill it, and output the corresponding drop/drops. If an Ore is thrown in, the Crusher will produce two of its corresponding Grit/Dust. If an Ingot/Gem is thrown in, it will produce just one of its corresponding Grit/Dust. If the Crusher tries to a crush an item that cannot be processed, it will be destroyed.
The speed that the Crusher processes one item is very close to the speed that a furnace processes one item when fueled with an External Heater. If processing ores that produce 2 grit, it will be necessary to have at least 2 furnaces in order to keep up with the output.
The multi-block's processes can be halted via Redstone through the "control panel", the front-rightmost-center block.