Disk Drive (ComputerCraft)
This page is about the Disk Drive from ComputerCraft. For other uses, see Disk Drive.
Disk Drive


Mod
ComputerCraft
Type
Solid block
The Disk Drive is a Peripheral that accepts a Floppy Disk and allows a Computer or Turtle to write files to the disk. This is very useful for creating backups or transferring programs from one computer to another.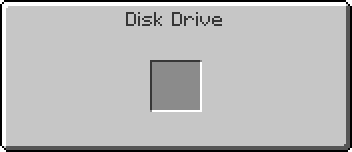 The Disk Drive is crafted with seven Stone and two Redstone.
ComputerCraft
 

Computers

Computers

·  ·  ·  ·  ·  ·  ·  ·

 

Hardware

·  ·

 

Misc

·  ·

 
 

Turtles

Turtles

·  ·  ·  ·  ·  ·  ·

 

Advanced Turtles

·  ·  ·  ·  ·  ·  ·

 

Peripherals

·  ·