Draconic Evolution: Upgrades
Updated for ver 2.3.3.x
Draconic Evolution armor, tools and weapons can be upgraded using the Fusion crafting process. Each upgrade requires an Upgrade Key and various supporting materials. There are four tiers of upgrade: Basic, Wyvern, Draconic and Chaotic. Each tier re-uses the same Upgrade Key but requires different materials during the fusion process.
Each tier is a prerequisite for the higher tiers. That is, to apply a Draconic tier upgrade, the Basic and Wyvern tier upgrades must be applied first.
Each Upgrade Key improves a particular feature of a weapon, tool or piece of armor. At the time of writing, the following Upgrade Keys can be crafted:
Craft the desired Upgrade Key
Acquire the necessary materials for the fusion
Place the fusion items on the injectors
Place the tool to be upgraded in the Fusion Core
Click Start
Note: As of version 2.3.3.261, the Upgrade Key is not consumed during the fusion process, thus it can be reused to apply the upgrade to multiple tools.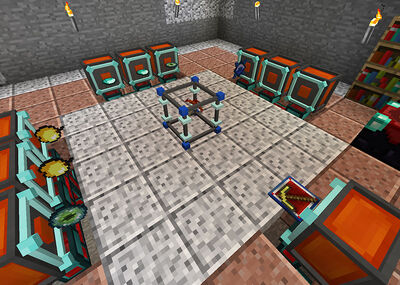 All crafting fusions use the same ingredient materials per tier. Each item must be placed on a separate Crafting Injector. The required items are as follows:
Note: Chaotic Tier Upgrades cant be applied to Draconium Tools and Armor because that would exceed the Tools capabilities.