Electric Blast Furnace
---
Outdated translations are marked like this.
Cette page documente the Electric Blast Furnace added by GregTech 5. Pour d'autres utilisations, voir Electric Blast Furnace.
Electric Blast Furnace


Mod
GregTech 5
Type
Type d'entité
Texte de l'infobulle
Block de contrôle pour le Blast Furnace
Propriétés
Résistance aux explosions
10
Dureté
10
Énergie
Consommation énergétique
120 or 500 EU/t
Le "Electric Blast Furnace" est une version haute technologie du four conventionnel. Il permet de traiter des métaux de Tier plus haut qu'un four conventionnel.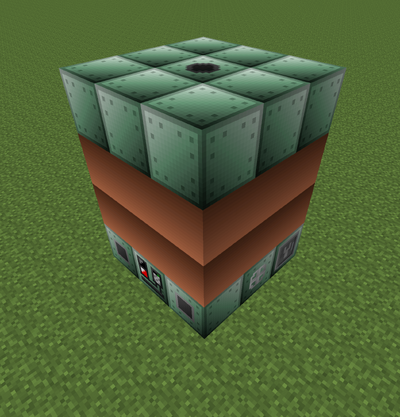 Construction
L'Electric Blast Furnace est une structure multiblock creuse de 4 blocks de haut, 3x3 de large. Le haut est fait de 8 Heat Proof Machines Casings entourant un Muffler Hatch. Le Muffler Hatch doit être tourné vers le haut et ne doit pas être recouvert.
Les deux étages du milieu sont faits de 16 Heatings Coils, 2 blocks centraux étant vides. Utiliser du Cupnickel, du Kantal ou des Nichrome Coils, mais ne pas les mélanger.
Placer le Contrôleur de l'Electric Blast Furnace en bas de la structure.
Les autres blocks du bas sont :
1 Maintenance Hatch
1 ou plus Import Bus
1 ou plus Output Bus
1 ou plus Energy Hatch
0 - 4 Heat Proof Machine Blocks pour le reste.
The control block is crafted as follows:
Il y a deux éléments qui permettent de déterminer ce qu'un Electric Blast Furnace peut cuire : sa capacité thermique (température maximale) et son Tier d'énergie. La capacité thermique est modifiée par l'utilisation de Heating Coils (Batterie de chauffage), le Tier d'énergie est lui modifié par l'utilisation d'Energy Hatches.
Des Cupronickel Coils permettent une température de 1800 Kelvin.
Des Kantal Coils permettent une température de 2700 Kelvin.
Des Nichrome Coils permettent une température de 3600 Kelvin.
GregTech Unofficial adds 4 additional tiers of Coils:
Tungstensteel Coils have a Heating Capacity of 4500 Kelvin.
HSS-G Coils have a Heating Capacity of 5400 Kelvin.
Naquadah Coils have a Heating Capacity of 7200 Kelvin.
Naquadah Alloy Coils have a Heating Capacity of 9001 Kelvin.
Tous les types d'Electric Blast Furnace ont besoin d'au moins 120EU/t. Puisque le MV Energy Hatch qui peut fournir cette énergie requiert de l'aluminium, qui est produit à partir de l'Electric Blast Furnace lui-même, le premier Blast Furnace devra avoir 4 LV Energy Hatches. Chaque LV Hatch devra être approvisionné par 32Eu/t avec une intensité de 2 ampères. Un approvisionnement insuffisant détruira les matériaux en cours de traitement.
Power is the most important issue when using an EBF. As it requires MV Electricity when only LV is available, it requires 5 Basic Diesel Generators, Gas Turbines, or Steam Turbines. 5 Steam Turbines consume 510 L Steam/tick, equal to 34 High Pressure Coal Boilers, 17 High Pressure Lava Boilers, or one fairly expensive Large Bronze Boiler. If a supply of Oil is readily available, a Distillery can easily supply enough Diesel to run a Blast Furnace.
One of the primary uses of the Electric Blast Furnace is the smelting of Iron into Steel. While the Bronze Blast Furnace can also produce Steel from Iron, the Electric Blast Furnace is faster and more energy efficient. Compare the Bronze Blast Furnace smelting one Iron Ingot into one Steel Ingot in 6 minutes for 4 Charcoal as opposed to the Electric Blast Furnace smelting one Wrought Iron Ingot into one Steel Ingot in 5 seconds for approximately 20,000 EU, including Oxygen and Wrought Iron processing. Using High Pressure Coal Boilers, 4 Charcoal can produce far more than 20,000 EU.
Another important use of the Electric Blast Furnace is the smelting of Silicon Ingots, for if Applied Energistics 2 is installed alongside GregTech, all of its circuit recipes consume Silicon Plates. Silicon Dust can most easily be acquired by electrolyzing Silicon Dioxide Dust, a process which also generates 2000L Oxygen (useful for Steel or Annealed Copper). Silicon Dioxide Dust is most easily acquired by centrifuging Glass Dust.
As with all other GregTech multiblock machines:
Insufficient energy supply will destroy the currently processed material.
When the Output Bus is full, the Electric Blast Furnace will continue to work and will destroy all newly produced items.
Do NOT build a multiblock machine over chunk borders. Doing so can lead to unpredictable behavior. If the player has NEI installed (which is highly recommended), chunk borders can be viewed by pressing F9 (by default).
Before using the Electric Blast Furnace for the first time, maintenance must be performed.
To activate or deactivate the Electric Blast Furnace, hit its control block with a Soft Hammer.