Elektrische Hoogoven
---
Outdated translations are marked like this.
Deze pagina gaat over the Electric Blast Furnace added by GregTech 5. Voor overig gebruik,zie Electric Blast Furnace.
Elektrische Hoogoven


Mod
GregTech 5
Type
Tegel entiteit
Tekstballon text
Controller Block voor de Elektrische Hoogoven
Eigenschappen
Explosieweerstand
10
Hardheid
10
Energieverbruik
Energie verbruik
120 or 500 EU/t
De Elektrische Hoogoven is een geavanceerdere versie van het conventionele Fornuis. Hiermee kunnen geavanceerdere metalen worden gesmolten dan met een normaal Fornuis.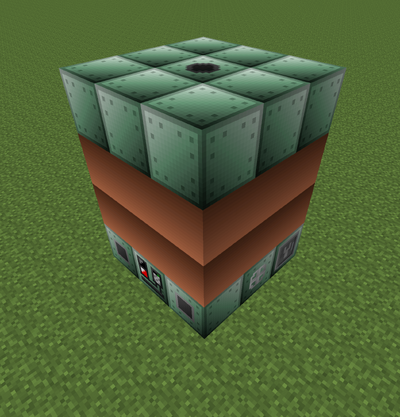 Recept
De Elektrische Hoogoven is een 3x3 doos die 4 blocks hoog is en hol in het midden. De bovenkant wordt gemaakt van 8 Hittebestendige Machine Behuizingen (Heat Proof Machine Casings) rondom een Demper Luik (Muffler Hatch). Het Demper Luik moet met de uitvoer zijde naar boven zijn geïnstalleerd en mag niet geblokkeerd worden.

De middelste 2 lagen worden gemaakt met 16 Verwarmingsspiralen (Heating Coils) en zijn hol. Gebruik hiervoor Cupnickel, Kantal of Nichrome Spiralen maar mix ze niet.

Plaats de Controller van de Elektrische Hoogoven onderin en in het midden.

De overige onderste blokken worden gedeeld door:
1 onderhoudsluik (Maintenance Hatch)
1 of meerdere Invoer Bussen (Input Bus)
1 of meerdere Uitvoer Bussen (Output Bus)
1 of meerdere Energieluiken (Energy Hatch)
0 tot 4 Hittebestendige Machineblokken voor de rest.
The control block is crafted as follows:
Er zijn 2 punten die bepalend zijn voor wat een Elektrische Hoogoven kan smelten: Hitte Capaciteit en Energie Niveau. De Hitte Capaciteit kan veranderd worden door het gebruike van Verwarmingsspiralen (Heating Coils); Energie niveau wordt aangepast door Energie Luiken (Energy Hatches) te gebruiken.
Kopernikkel spiralen (Cupronickel Coils) hebben een Hittecapaciteit van 1800 Kelvin.
Kantal spiralen (Kantal Coils) hebben een hittecapaciteit van 2700 Kelvin.
Nichromen spiralen (Nichrome Coils) hebben een hittecapaciteit van 3600 Kelvin.
GregTech Unofficial adds 4 additional tiers of Coils:
Tungstensteel Coils have a Heating Capacity of 4500 Kelvin.
HSS-G Coils have a Heating Capacity of 5400 Kelvin.
Naquadah Coils have a Heating Capacity of 7200 Kelvin.
Naquadah Alloy Coils have a Heating Capacity of 9001 Kelvin.
Alle Elektrische Hoogoven recepten hebben minimaal 120EU/t nodig. Aangezien het MV Energie Luik dat deze stroom kan leveren aluminium nodig heeft, wat door de Elektrische Hoogoven moet worden gesmolten, heeft de eerste Elektrische Hoogoven 4 LV Luiken nodig. Elk LV Luik moet voorzien worden van 32EU/t op 2 AMP. "'Een niet toereikende energievoorziening van het te smelten materiaal vernietigen.'"
Power is the most important issue when using an EBF. As it requires MV Electricity when only LV is available, it requires 5 Basic Diesel Generators, Gas Turbines, or Steam Turbines. 5 Steam Turbines consume 510 L Steam/tick, equal to 34 High Pressure Coal Boilers, 17 High Pressure Lava Boilers, or one fairly expensive Large Bronze Boiler. If a supply of Oil is readily available, a Distillery can easily supply enough Diesel to run a Blast Furnace.
One of the primary uses of the Electric Blast Furnace is the smelting of Iron into Steel. While the Bronze Blast Furnace can also produce Steel from Iron, the Electric Blast Furnace is faster and more energy efficient. Compare the Bronze Blast Furnace smelting one Iron Ingot into one Steel Ingot in 6 minutes for 4 Charcoal as opposed to the Electric Blast Furnace smelting one Wrought Iron Ingot into one Steel Ingot in 5 seconds for approximately 20,000 EU, including Oxygen and Wrought Iron processing. Using High Pressure Coal Boilers, 4 Charcoal can produce far more than 20,000 EU.
Another important use of the Electric Blast Furnace is the smelting of Silicon Ingots, for if Applied Energistics 2 is installed alongside GregTech, all of its circuit recipes consume Silicon Plates. Silicon Dust can most easily be acquired by electrolyzing Silicon Dioxide Dust, a process which also generates 2000L Oxygen (useful for Steel or Annealed Copper). Silicon Dioxide Dust is most easily acquired by centrifuging Glass Dust.
As with all other GregTech multiblock machines:
Insufficient energy supply will destroy the currently processed material.
When the Output Bus is full, the Electric Blast Furnace will continue to work and will destroy all newly produced items.
Do NOT build a multiblock machine over chunk borders. Doing so can lead to unpredictable behavior. If the player has NEI installed (which is highly recommended), chunk borders can be viewed by pressing F9 (by default).
Before using the Electric Blast Furnace for the first time, maintenance must be performed.
To activate or deactivate the Electric Blast Furnace, hit its control block with a Soft Hammer.