Electrum
Electrum is an alloy added by various mods. It is most commonly made by combining Silver and Gold. Using Gold and Silver Dust in a crafting grid is one recipe to make Electrum Dust. The alloy can also be made with dust and/or ingots of Silver and Gold in an Induction Smelter or Alloy Smelter.
GregTech 5
[
edit
]
Tech Reborn
[
edit
]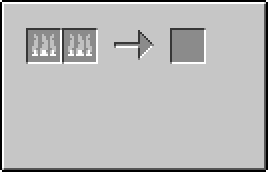 Total: ? EU
Usage: 16 EU/t
Voltage: ? EU
Amperage: 1
Time: 10 secs



EU: 300,000
Time: 750 secs
Immersive Engineering
[
edit
]
Electrum is used to make various machines and components, such as Heavy Engineering Blocks and LV Wire Coils.
Thermal Expansion 3
[
edit
]
Thermal Foundation
[
edit
]
Electrum can be made in Thermal Foundation by mixing Gold and Silver dust.
Then smelt the resulting blend into Electrum ingots.
Or else, the electrum ingots can be created directly in an Induction Smelter.