Ender IO (Bloc)
---
Cette page documente le bloc. Pour le mod, voir Ender IO.
Cette information correspond à une version plus ancienne de ce mod.
Ender IO


Mod
Ender IO
Type
Bloc solide
Texte de l'infobulle
Allow remote access to nearby blocks
Used with Travel Anchors or the Staff of Travel
Le bloc Ender IO est un bloc ajouté par Ender IO. Faire un clic-droit dans sa direction avec le Staff of Traveling (et non pas faire un clic-droit sur le bloc directement) ou faire un clic-droit dans sa direction depuis le dessus d'un Travel Anchor, permet la visualisation d'une zone de 17x17 blocs, avec l'Ender IO comme centre. La visualisation permet un nombre limité d'intéractions; les interfaces peuvent être ouvertes et utilisées, et les objets comme des leviers peuvent être utilisés. Ouvrir une interface ferme le mode de visualisation, mais permet toujours l'interaction.
The Ender IO was removed when the mod was updated to Minecraft 1.12.
Le chunk de l'Ender IO doit être chargé pour fonctionner correctement.
Configuration
L'Ender IO a lui-même une interface pour permettre la configuration. Il peut être renommé, ce qui lui permet de se détacher des autres Ender IOs depuis une Travel Anchor ou en tenant un Staff of Travelling. Cela peut être combiné avec une étiquette; l'emplacement fantôme dans le coin supérieur droit. Faire un clic-droit avec un objet (pas un bloc) sur l'emplacement d'étiquette permet à l'objet d'être visible depuis une Travel Anchor ou en tenant un Staff of Travelling.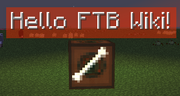 Un mode de confidentialité pour l'Ender IO peut aussi être défini : soit "Public", "Protected" ou "Private". Il est "Public" par défaut, ce qui permet à n'importe qui de se servir de l'Ender IO. "Private" permet seulement au propriétaire original du bloc de l'utiliser. En mode "Protected", un mot de passe de 5 objet-chiffres doit être entré pour l'utiliser. Ce n'est pas nécessaire pour le propriétaire d'origine du bloc, qui définit le mot de passe.
Recette