As part of the Unified Community Platform project, this wiki and 38 others will be migrated to the new platform in the next few weeks. Minimal changes are expected as part of this migration. Read more here.
FTBLite 3
FTBLite 3
Maintained by
The FTB Team
Description
A pack built with older and weaker computers in mind.
Version info
Minecraft
1.7.10
FTB Lite 3 is a Feed The Beast and CurseForge modpack created by the FTB Team. It was one of the first modpacks for 1.7.0 to be released by the FTB Team. It is the successor modpack to FTB Lite for Minecraft 1.4.7 and FTBLite2 for Minecraft 1.6.4. It is meant for older and/or weaker computers. It does not contain an extensive modlist.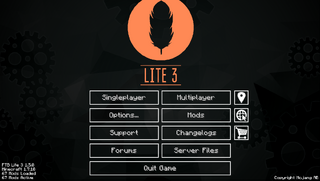 Official Feed The Beast modpacks

1.14 modpacks

1.12 modpacks

1.10.2 modpacks

1.9.4 modpacks

1.8.9 modpacks

1.7.10 modpacks

1.6.4 modpacks

1.5.2 modpacks

1.4.7 modpacks

1.4.2 modpacks

1.2.5 modpacks

Comparisons