As part of the Unified Community Platform project, this wiki and 38 others will be migrated to the new platform in the next few weeks. Minimal changes are expected as part of this migration. Read more here.
FTB Infinity Evolved
Outdated translations are marked like this.
Infinity Evolved 1.7
管理者
The FTB Team
説明
A general modpack for 1.7.10 that has two mode you can play on Normal and Expert. (ノーマルとエキスパートの2つのモードを搭載した、1.7.10用の総合Modpack。)
バージョン情報
安定版
3.1.0
Minecraft
1.7.10
Forge
10.13.4.1614
Infinity 1.7は、The FTB Team開発の、Feed The BeastとCurseForgeで配信中のModpackである。バージョン1.6.4向けのMonsterや、バージョン1.5.2向けのFTB Unleashed、バージョン1.4.7向けのFTB Ultimateのように、150個以上のModを搭載した多目的Modpackである。様々なスタイルのModで遊びたい中級者に最適なModpackである。小規模~中規模のサーバーへの導入にも適しているが、Mod数が多いため、大規模なサーバーへ導入するのはおすすめできない。
In October 2015, Infinity's name was changed to Infinity Evolved, (and its release versions were bumped to 2.0.0) and featured the addition of two notable new mods: FTB Utilities and FTB Tweaks. The most significant addition from this was the creation of two difficulties- normal mode and Expert Mode. With FTB Tweaks, these difficulties could be exchanged on the fly, without even a server restart. Infinity Evolved Expert Mode (commonly abbreviated as "IE:E") featured many, many recipe changes intended to force players to use every major mod in the pack to reach their end-game goals, and added a series of Extreme Crafting Recipes for certain items normally obtainable only in Creative Mode.
メインメニュー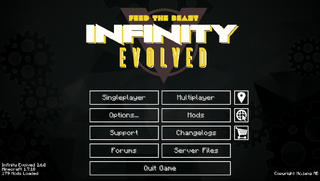 旧ロゴ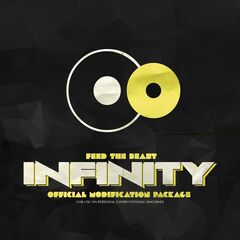 Feed The Beastの公式Modパック

1.14対応Modパック

1.12対応Modパック

1.10.2対応Modパック

1.9.4対応Modパック

1.8.9対応Modパック

1.7.10対応Modパック

1.6.4対応Modパック

1.5.2対応Modパック

1.4.7対応Modパック

1.4.2対応Modパック

1.2.5対応Modパック

比較