Factory Tech Machine Maintenance
Factory Tech machines require no power. Instead, they rely on regular maintenance. Consumable parts such as saw blades and motors will wear out and become dull, thus requiring replacement. Some parts are available in different qualities with higher quality items lasting longer. Machine GUIs will indicate the replacement parts required.

Each Factory Tech machine accept new parts from one side only. This is specified in the machine's Blueprint but is usually the Back face. This can be overridden by Shift-right-clicking with a Monkey Wrench. An Insertion Hatch must be placed against the input face, then new parts may be delivered with Transport Rollers as pictured. Machines will hold up to a full stack of consumable parts.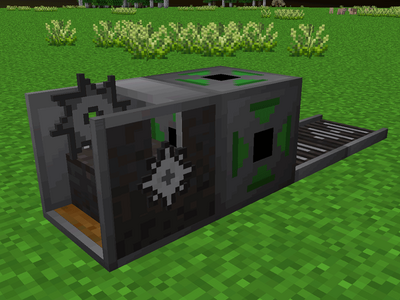 As of version 1.5a, most parts come in several varieties. Some come as craftable 'stone' versions that are slow, inefficient, but will do to get started with the early-game of the mod. More advanced parts will last longer before breaking, and bestow a cumulative efficiency bonus to machine operations. For example, a machine that requires 2 parts, each of which give a 50% percent bonus, will run at 225% of its usual speed.
It's a good idea to automate the highest-tier of parts possible at any point, as they're just flat-out better than the lower tiers. However, the basic tiers of parts still have use as crafting components.
Below are tables of all parts and their efficiency bonuses, where applicable.
Drills

| Part | Lifetime Boost | Efficiency Boost |
| --- | --- | --- |
| Stone Drill | 50% | 50% |
| Drill | 100% | 100% |
| Tempered Drill | 140% | 160% |
Electromagnetic Parts

| Part | Lifetime Boost | Efficiency Boost |
| --- | --- | --- |
| Wooden Mesh | N/A | N/A |
Factory Tech
 

Materials

Ores

·

 

Dusts

·  ·  ·  ·  ·  ·  ·  ·  ·  ·

 

Ingots

·  ·  ·

 

Fluids

·  ·  ·  ·

 

Decorative Blocks

·  ·  ·  ·  ·  ·

 
 

Tools and Apparel

Tools

·  ·  ·  ·  ·

 

Workwear

·  ·  ·

 
 

Machinery

Components

·  ·  ·  ·  ·  ·  ·  ·  ·  ·  ·  ·  ·  ·  ·  ·  ·  ·  ·  ·  ·  ·  ·  ·  ·  ·  ·  ·  ·  ·  ·  ·  ·  ·

 

Component Parts

·  ·  ·  ·  ·  ·  ·  ·

 

Worn Components

·  ·  ·  ·  ·  ·  ·  ·  ·  ·  ·

 

Machines

·  ·  ·  ·  ·  ·  ·  ·  ·  ·  ·  ·  ·  ·  ·  ·  ·  ·  ·  ·  ·  ·  ·  ·  ·  ·  ·  ·  ·  ·  ·  ·

 

Automation

·  ·  ·  ·  ·  ·  ·  ·  ·  ·  ·  ·  ·  ·  ·  ·  ·  ·  ·

 

Upgrades

·  ·  ·  ·