As part of the Unified Community Platform project, this wiki and 38 others will be migrated to the new platform in the next few weeks. Minimal changes are expected as part of this migration. Read more here.
Freestanding red alloy wire (RedLogic)
This page is about the Freestanding red alloy wire from RedLogic. For other uses, see Freestanding Red Alloy Wire.
Freestanding red alloy wire


Mod
RedLogic
Type
Solid block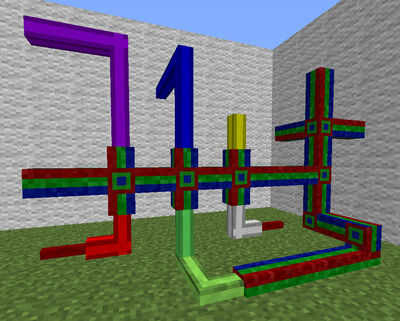 The Freestanding red alloy wire is a redstone wire added by RedLogic. The difference from the Red alloy wires is the ability to place the wires freely in the world without the need of an object, to which the wires are placed (shown in Fig. 1).
These are used for transmitting redstone signals. They have a signal range limitation of 239 blocks. They can connect to Insulated wires and other Freestanding wires, but not to Bundled cables or Freestanding bundled cables (as shown in Fig. 1).
RedLogic
 

Blocks/Items

Cleanroom Blocks

·  ·  ·

 

Circuit Construction Blocks

·  ·

 

Circuit Construction Items

·  ·

 

Other Items

Multiblock Structures
 

Redstone Parts

Flat Wires

·

 

Insulated

·  ·  ·  ·  ·  ·  ·  ·  ·  ·  ·  ·  ·  ·  ·

 

Freestanding Wires

·

 

Insulated

·  ·  ·  ·  ·  ·  ·  ·  ·  ·  ·  ·  ·  ·  ·

 

Basic Logic Gates

·  ·  ·  ·  ·  ·  ·

 

Complex Logic Circuits

·  ·  ·  ·  ·  ·  ·  ·  ·  ·  ·  ·  ·

 

Bundled Gates

·  ·  ·  ·  ·  ·

 

Crossing Wires

·  ·

 
 

Lighting

Lamps

·  ·  ·  ·  ·  ·  ·  ·  ·  ·  ·  ·  ·  ·  ·

 

Decorative Lamps

·  ·  ·  ·  ·  ·  ·  ·  ·  ·  ·  ·  ·  ·  ·

 

Indicator Lamps

·  ·  ·  ·  ·  ·  ·  ·  ·  ·  ·  ·  ·  ·  ·

 

Lumar Buttons

·  ·  ·  ·  ·  ·  ·  ·  ·  ·  ·  ·  ·  ·  ·

 

Latchable Lumar Buttons

·  ·  ·  ·  ·  ·  ·  ·  ·  ·  ·  ·  ·  ·  ·

 

Self-Latching Lumar Buttons

·  ·  ·  ·  ·  ·  ·  ·  ·  ·  ·  ·  ·  ·  ·

 

Lumar Toggle Buttons

·  ·  ·  ·  ·  ·  ·  ·  ·  ·  ·  ·  ·  ·  ·

 

Lumar Plates

·  ·  ·  ·  ·  ·  ·  ·  ·  ·  ·  ·  ·  ·  ·

 

Latchable Lumar Plates

·  ·  ·  ·  ·  ·  ·  ·  ·  ·  ·  ·  ·  ·  ·

 

Self-Latching Lumar Plates

·  ·  ·  ·  ·  ·  ·  ·  ·  ·  ·  ·  ·  ·  ·

 

Lumar Toggle Plates

·  ·  ·  ·  ·  ·  ·  ·  ·  ·  ·  ·  ·  ·  ·

 

Cage Lamps

·  ·  ·  ·  ·  ·  ·  ·  ·  ·  ·  ·  ·  ·  ·

 

Decorative Cage Lamps

·  ·  ·  ·  ·  ·  ·  ·  ·  ·  ·  ·  ·  ·  ·

 

Indicator Cage Lamps

·  ·  ·  ·  ·  ·  ·  ·  ·  ·  ·  ·  ·  ·  ·

 

Flat Lamps

·  ·  ·  ·  ·  ·  ·  ·  ·  ·  ·  ·  ·  ·  ·

 

Decorative Flat Lamps

·  ·  ·  ·  ·  ·  ·  ·  ·  ·  ·  ·  ·  ·  ·

 

Indicator Flat Lamps

·  ·  ·  ·  ·  ·  ·  ·  ·  ·  ·  ·  ·  ·  ·