As part of the Unified Community Platform project, this wiki and 38 others will be migrated to the new platform in the next few weeks. Minimal changes are expected as part of this migration. Read more here.
Getting Started (Panilla)
This article is a work-in-progress.
It may be finished in the near future, check its history to see previous edits.
This guide is on getting started with Panilla.
First day, first night, first week
[
edit
|
edit source
]
If you've played Minecraft before, your first day is just like how it is in vanilla Minecraft. Get Wood, making a Crafting Table, make a Wooden Pickaxe, make a basic shelter.
The next step is to make a basic farm and home. Having a Wheat farm works fine for food. You can make a basic home out of Wood. Just to make it look a bit better, you can experiment with having the sides made of a different material, like another variant of Wood or Sandstone, Sugar Cane Blocks, Midori Blocks or Thatch.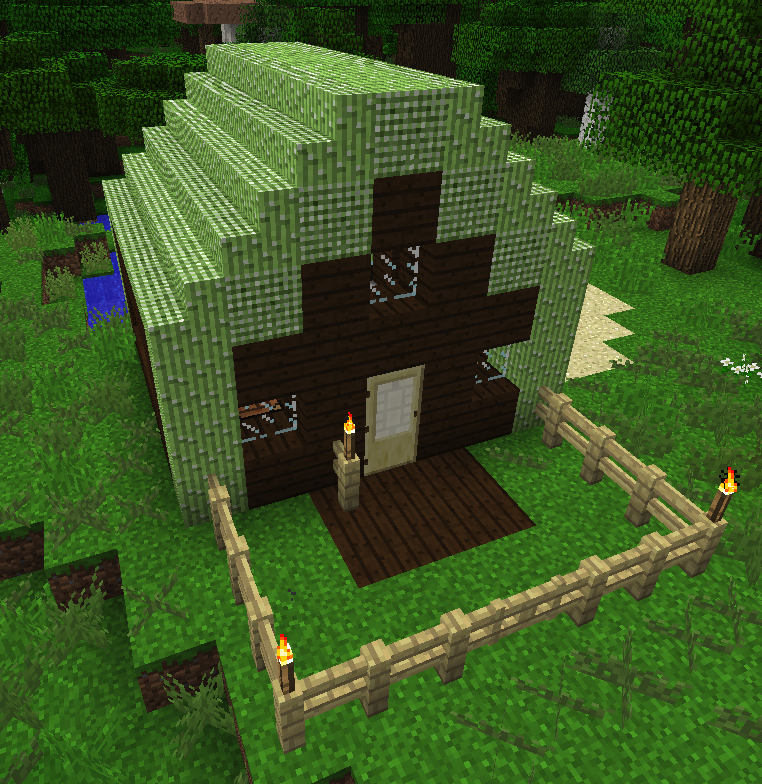 The mobs that spawn in this modpack might be a bit tougher than Vanilla. For that, you're going to some gear– a full set of Iron armor and an Iron Sword should suffice.
In order to survive, you're going to have to do more than defend yourself against hostile mobs. With this modpack, you'll have to keep the following in mind:
Hunger. You have to eat food. You can craft Bread from Wheat. Wheat is grown from Seeds, which are dropped by breaking Grass. You can kill animals like Pigs and Cows early game in order to gain food if waiting for crops is too long. There are also many other types of foods worth exploring. Cake is one the most hardest to obtain foods in the game, so it is a decent goal.
Thirst. You have to drink. A Dirty Water Bottle can be obtained by right-clicking a Glass of Water on a Water block. Drinking this directly, however, will likely give the Thirst status effect which would ruin the point of drinking it in the first place. The Dirty Water Bottle must be filtered with a Charcoal Filter in order to create a Filtered Water Bottle, which may still give the status effect but less frequently and will restore more thirst points. Other ways to deal with thirst include using a Rain Collector and making various juices, like Beetroot Juice and Carrot Juice.
Body Temperature. You have to keep your body at a certain temperature—not too hot or cold. If you are too cold, the easiest way to deal with this is by making a Campfire. If you are too hot, the easiest way to deal with this is by jumping into Water. Better late game solutions include Wool armor (the Wool Hood, the Wool Jacket, the Wool Pants, and the Woot Boots) for warming you, and Jelled Slime armor (the Jelled Slime Helmet, the Jelled Slime Chestplate, the Jelled Slime Leggings and the Jelled Slime Boots) for cooling you. Heating Coils and Cooling Coils can be used in your house.
Now that you are settled down, maybe it's time to explore a little bit.
The Nether is a dimension.