Industrial Electroplater
Industrial Electroplater


Mod
Factory Tech
Type
Machine
Properties
Blast resistance
12
Hardness
4
The Industrial Electroplater is a machine added by Factory Tech. The Industrial Electroplater dissolves materials in Sulphuric Acid and then uses an electric current to deposit the materials into a catalyst item. In this way, metals can be extracted more efficiently from ores.
500mB of Sulphuric Acid are required per operation.
A catalyst item must be placed in the output slot for the electroplating to begin.
Ground Ores become 2 ingots. Redstone becomes 1 Glowstone. Sand becomes 1 Nether Quartz.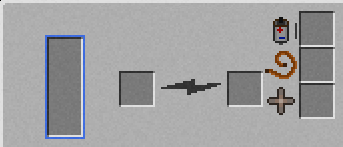 Industrial Electroplater
The following parts are required for ongoing maintenance:
Part
Variants
Guaranteed uses
Chance of breaking
Cumulative break
chance increase
Salvage chance
Battery



8
20%
50%
80%
Wire



2
40%
20%
100%
Mixing Blades


16
10%
10%
0%
Factory Tech
 

Materials

Ores

·

 

Dusts

·  ·  ·  ·  ·  ·  ·  ·  ·  ·

 

Ingots

·  ·  ·

 

Fluids

·  ·  ·  ·

 

Decorative Blocks

·  ·  ·  ·  ·  ·

 
 

Tools and Apparel

Tools

·  ·  ·  ·  ·

 

Workwear

·  ·  ·

 
 

Machinery

Components

·  ·  ·  ·  ·  ·  ·  ·  ·  ·  ·  ·  ·  ·  ·  ·  ·  ·  ·  ·  ·  ·  ·  ·  ·  ·  ·  ·  ·  ·  ·  ·  ·  ·

 

Component Parts

·  ·  ·  ·  ·  ·  ·  ·

 

Worn Components

·  ·  ·  ·  ·  ·  ·  ·  ·  ·  ·

 

Machines

·  ·  ·  ·  ·  ·  ·  ·  ·  ·  ·  ·  ·  ·  ·  ·  ·  ·  ·  ·  ·  ·  ·  ·  ·  ·  ·  ·  ·  ·  ·  ·

 

Automation

·  ·  ·  ·  ·  ·  ·  ·  ·  ·  ·  ·  ·  ·  ·  ·  ·  ·  ·

 

Upgrades

·  ·  ·  ·