As part of the Unified Community Platform project, this wiki and 38 others will be migrated to the new platform, with migrations beginning September 23rd at 7am CDT. Minimal changes are expected as part of this migration. Read more here.
Magical Planks
Magical Planks


Mod
Extra Utilities 2
Type
Solid block
Magical Planks are a block from Extra Utilities 2. They are the plank form of Magical Wood and have no use other than decoration. The block supports connected textures and has the appearance of wooden tiles framed by a darker border with gold accents at the corners.
Magical Planks may be burned as furnace fuel for the same value as regular wood planks. Because of the expensive materials that went into the crafting of Magical Wood this is not a good idea.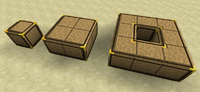 Extra Utilities 2
 

Blocks

GP generators

RF generators

Spikes

Drums

Trash Cans

Transfer

Misc devices

Terraformer/Climograph

Glass

Decorative

Components
 

Items

Angel Rings

Wands

Sickles

Weapons

Upgrades

Potions

Misc utilities

Components
 

Misc

Villagers

Enchantments

Trees

Misc