As part of the Unified Community Platform project, this wiki and 38 others will be migrated to the new platform, with migrations beginning September 23rd at 7am CDT. Minimal changes are expected as part of this migration. Read more here.
Plutonium Cell
(Double/Quad) Plutonium Cell




Mod
GregTech 4
Type
Item
Plutonium Cells are a nuclear fuel source added by GregTech 4. They come in three variants: normal, single, double and quad. They produce twice as much EU and heat as their Uranium counterparts. They also last twice as long. Because they generate a lot of heat, especially the double and the quad cell, they are a bit tricky to handle.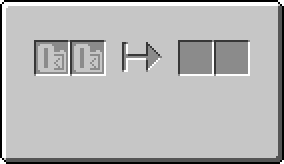 Cells
GregTech

Coolant Cells

·  ·  ·  ·  ·

 

Nuclear Power

·  ·  ·  ·  ·

 

Misc

·  ·  ·  ·  ·  ·  ·  ·  ·  ·  ·  ·  ·  ·  ·  ·  ·  ·  ·  ·  ·  ·  ·  ·  ·  ·  ·  ·  ·  ·  ·  ·  ·

 

IndustrialCraft 2

Coolant Cells

·  ·

 

Nuclear Power

·  ·  ·  ·  ·

 

Misc

·  ·  ·  ·  ·  ·  ·  ·  ·  ·

 
GregTech 4
 

Energy

Generators

·  ·  ·  ·  ·  ·  ·  ·  ·  ·

 

EU Storage

·  ·  ·  ·  ·  ·  ·  ·  ·  ·

 

Nuclear Reactor Components

·  ·  ·  ·  ·  ·  ·  ·  ·  ·  ·  ·  ·

 

·  ·  ·  ·

 

Misc. energy

·

 

Multiblock Generators

·  ·  ·  ·  ·  ·  ·  ·  ·  ·

 
 

Processed Components

Machine Blocks

·  ·  ·  ·  ·  ·  ·

 

Circuits

·  ·  ·  ·  ·  ·  ·

 

Heating Coils

·  ·

 

Hulls

·  ·  ·  ·  ·  ·  ·  ·  ·

 

Miscellaneous

·  ·  ·  ·  ·  ·  ·  ·  ·

 

Upgrades

·  ·  ·  ·  ·  ·  ·  ·  ·  ·

 

Covers

·  ·  ·  ·  ·  ·  ·  ·  ·  ·  ·  ·  ·  ·  ·  ·  ·  ·  ·  ·

 

Turbine Blades

·  ·  ·  ·

 

Gears

·  ·  ·  ·  ·

 
 

Machines

Processing

Furnaces

·  ·  ·

 

Smelters

·

 

Blast Furnaces

·

 

Grinding

·  ·  ·

 

Slicing

·  ·  ·

 

Separation

·  ·

 

Compression

·  ·

 

Combining

·  ·  ·

 

Extraction

·

 

Smashing

·

 

Scrap

·

 

Other

·

 

Automation

Crafting

·  ·

 

Interaction

·  ·  ·

 

Buffers

·  ·  ·

 

Sorting

·  ·

 

Managers

·

 

Translocators

·

 

Sound

·

 

Interdimensional

·  ·

 

Redstone

·  ·  ·  ·

 

Storage

Dense

·  ·  ·

 

Aesthetic

·  ·  ·  ·

 

Pipes

Item Pipe

·

 

Large Item Pipe

·

 

Fluid Pipe

·  ·  ·

 

Large Fluid Pipe

·  ·  ·

 

Other

·  ·  ·

 
 

Tools & Utilities

Credits

·  ·  ·  ·  ·  ·  ·  ·  ·  ·  ·  ·  ·  ·  ·

 

Hammers

·  ·

 

Wrenches

·  ·  ·  ·  ·

 

Other Tools

·  ·  ·  ·  ·  ·  ·  ·  ·  ·  ·  ·  ·  ·  ·

 

Digging Tools

·  ·  ·  ·

 

Wearables

·  ·  ·  ·

 

Soldering

·  ·

 

Turbine Rotors

·  ·  ·  ·

 

Saws

·  ·  ·  ·  ·

 

Spray Cans

·  ·  ·  ·  ·  ·  ·  ·  ·  ·  ·  ·  ·  ·  ·  ·  ·  ·  ·  ·  ·  ·

 

Files

·  ·  ·

 

Flint Tools

·  ·  ·  ·

 

Steel Tools

·  ·  ·  ·

 

Tungstensteel Tools

·  ·  ·  ·

 

Extruder Shapes

·

 
 

Resources

·  ·  ·  ·  ·  ·  ·  ·  ·  ·  ·  ·  ·  ·  ·  ·  ·  ·  ·  ·

 

·  ·  ·  ·  ·

 

·  ·  ·  ·  ·  ·  ·  ·  ·  ·  ·  ·  ·  ·  ·  ·  ·  ·  ·  ·  ·  ·  ·  ·  ·  ·  ·  ·

 

·  ·  ·  ·  ·  ·  ·  ·  ·  ·  ·  ·  ·  ·  ·  ·  ·  ·  ·

 

·  ·  ·  ·  ·  ·  ·  ·  ·  ·  ·  ·  ·  ·

 

·  ·  ·  ·  ·  ·  ·  ·  ·  ·  ·  ·  ·  ·  ·  ·  ·  ·  ·  ·  ·  ·  ·  ·  ·  ·  ·  ·  ·  ·  ·  ·  ·  ·  ·  ·  ·  ·  ·  ·

 

·  ·  ·  ·  ·  ·  ·  ·  ·  ·  ·  ·  ·  ·  ·  ·  ·  ·  ·  ·  ·

 
 

Resources (Dusts)

·  ·  ·  ·  ·  ·  ·  ·  ·  ·  ·  ·  ·  ·  ·  ·  ·  ·  ·  ·  ·  ·  ·  ·  ·  ·  ·  ·  ·  ·  ·  ·  ·  ·  ·  ·  ·  ·  ·  ·  ·  ·  ·  ·  ·  ·  ·  ·  ·  ·  ·  ·  ·  ·  ·  ·  ·  ·  ·  ·  ·  ·  ·  ·  ·  ·  ·  ·  ·  ·  ·

 

·  ·  ·  ·  ·  ·  ·  ·  ·  ·  ·  ·  ·  ·  ·  ·  ·  ·  ·  ·  ·  ·  ·  ·  ·  ·  ·  ·  ·  ·  ·  ·  ·  ·  ·  ·  ·  ·  ·  ·  ·  ·  ·  ·  ·  ·  ·  ·  ·  ·  ·  ·  ·  ·  ·  ·  ·  ·  ·  ·  ·  ·  ·  ·  ·  ·  ·  ·  ·  ·  ·  ·  ·  ·  ·

 

·  ·  ·  ·  ·  ·  ·  ·  ·  ·  ·  ·  ·  ·  ·  ·  ·  ·  ·  ·  ·  ·  ·  ·  ·  ·  ·  ·  ·  ·  ·  ·  ·  ·  ·  ·  ·  ·  ·  ·  ·  ·  ·  ·  ·  ·  ·  ·  ·  ·  ·  ·  ·  ·  ·  ·  ·  ·  ·  ·  ·  ·  ·  ·  ·  ·  ·  ·  ·  ·  ·  ·  ·  ·  ·

 
 

Resources (Gases, Liquids, Plasmas & Cells)

Pure Chemical Element Cells

·  ·  ·  ·  ·  ·  ·  ·  ·  ·  ·  ·  ·  ·  ·  ·  ·

 

Chemical Compound Cells

·  ·  ·  ·  ·  ·  ·  ·  ·  ·  ·  ·  ·  ·  ·

 
 

Agriculture/Food

Crops

·  ·  ·  ·  ·  ·  ·  ·  ·  ·  ·  ·  ·  ·  ·  ·  ·  ·  ·  ·  ·  ·

 

Products

·  ·  ·

 

Foods

·  ·  ·

 
 

Useful Information

Books

·  ·  ·  ·  ·  ·  ·  ·  ·  ·  ·  ·  ·  ·  ·