Soul Armour Forge
Soul Armour Forge


Mod
Blood Magic
Type
Solid block
The Soul Armour Forge is a block added by Blood Magic. The Soul Armour Forge is used to create the pieces of the Bound Armour, such as the Bound Helmet and Bound Chestplate. To create the Soul Armour Forge and all pieces of Bound Armour, 28 Filled Sockets are required.
Note: The Blood Orb is not consumed in this process.
In order to use the Soul Armour Forge, it must be placed in the world and surrounded with Filled Sockets forming the shape of the desired piece oarmour . In order to function properly, the Soul Armour Forge must touch as many Filled Sockets as possible with the layout, such as the picture to the right. Laying the sockets both horizontally and vertically will work. Once the sockets have been placed, right clicking on them with a sigil, blood orb, or blood shard will place them into the sockets, binding them to that piece of armor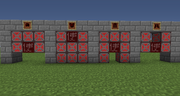 Using a Master Blood Orb or stronger will allow any sigils in that piece of armor to run without consuming Life Essence. Weak Blood Shards will allow the first sigil in the piece of armor to work, while a Demon Blood Shard will allow the first two sigils to function.
Below is a list of the sigils and their effects when placed into the armor:
Should Thaumcraft 4 also be installed, the Goggles of Revealing or Sanguine Helmet can also be used on the Bound Armour, granting the vision provided by the goggles but without the Vis discount.