As part of the Unified Community Platform project, this wiki and 38 others will be migrated to the new platform in the next few weeks. Minimal changes are expected as part of this migration. Read more here.
Stone Circle (Twilight Forest)
This page is about the Stone Circle added by Twilight Forest. For other uses, see Stone Circle.
Stone Circle
Mod
Twilight Forest
Type
Landmark
The Stone Circle is a minor landmark from the Twilight Forest mod. These can be found almost anywhere within the Twilight Forest dimension. Stone Circles are usually made of Moss Stone, but occasionally have Cobblestone as well.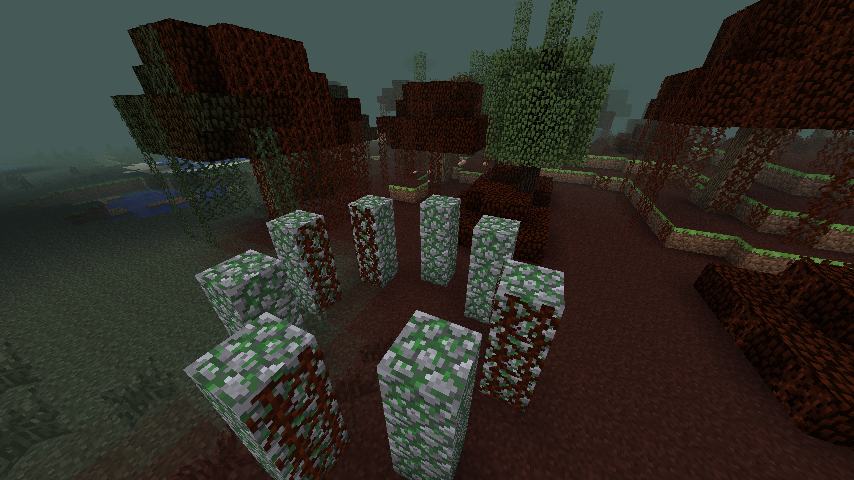 Twilight Forest
 

Blocks

General

·  ·  ·  ·  ·  ·  ·  ·  ·  ·  ·  ·  ·  ·  ·  ·  ·  ·  ·  ·  ·  ·  ·  ·  ·  ·  ·

 

Plants

·  ·  ·  ·  ·  ·  ·  ·  ·  ·  ·  ·

 

Leaves

·  ·  ·  ·  ·  ·  ·  ·  ·  ·  ·

 

Wood

·  ·  ·  ·  ·  ·  ·  ·  ·  ·  ·

 

Nagastone

·  ·  ·  ·  ·  ·  ·  ·  ·  ·  ·  ·  ·

 

Mazestone

·  ·  ·  ·  ·  ·  ·

 

Underbrick

·  ·

 

Towerwood

·  ·  ·  ·

 

Dark Tower Devices

·  ·  ·  ·  ·  ·  ·  ·  ·

 

Aurora Blocks

·  ·

 

Giant

·  ·  ·

 

Deadrock

·  ·

 

Castle Brick

·  ·  ·  ·  ·  ·  ·  ·  ·  ·  ·  ·  ·  ·  ·  ·  ·  ·  ·  ·

 

Trophies

·  ·  ·  ·  ·  ·  ·

 
 

Items

Armor

Arctic

·  ·  ·

 

·  ·  ·

 

·  ·  ·

 

·  ·  ·

 

·

 

Phantom

·

 

·  ·  ·

 

Yeti

·  ·  ·

 

Tools

·

 

Giant

·

 

·  ·  ·  ·

 

·  ·

 

·  ·  ·  ·

 

Bows

·  ·  ·

 

Scepters

·  ·  ·

 

Other

·  ·  ·  ·

 

Utility

Charms

·  ·  ·  ·

 

Maps

·  ·

 

Other

·  ·  ·  ·  ·  ·  ·

 

Resources

Raw

·  ·  ·  ·  ·  ·  ·  ·  ·  ·  ·  ·  ·

 

Refined

·  ·  ·  ·  ·

 

Food

·  ·  ·  ·  ·  ·  ·

 

Books

·  ·  ·  ·  ·  ·  ·  ·

 
 

Other

Entities

Passive

·  ·  ·  ·  ·  ·  ·  ·

 

Hostile

·  ·  ·  ·  ·  ·  ·  ·  ·  ·  ·  ·  ·  ·  ·  ·  ·  ·  ·  ·  ·  ·  ·  ·  ·  ·  ·  ·  ·  ·  ·  ·  ·  ·  ·

 

Boss

·  ·  ·  ·  ·  ·  ·  ·

 

World