As part of the Unified Community Platform project, this wiki and 38 others will be migrated to the new platform in the next few weeks. Minimal changes are expected as part of this migration. Read more here.
Vanilla Plus
Vanilla Plus
Maintained by
FTB Team
Description
"Sometimes there's nothing better than the classics."
Version info
Current stable
1.1.0
Latest
1.1.0
Minecraft
1.7.10
Forge
10.13.4.1448
Vanilla Plus (also known as Vanilla +) is a Feed The Beast and CurseForge modpack created by the FTB Team. It adds numerous mods to enhance core mechanics, while maintaining the vanilla gameplay experience.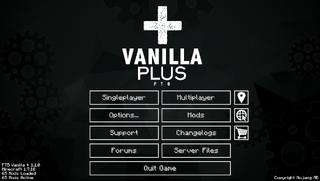 | Mod Name | Version | Author |
| --- | --- | --- |
| AgriCraft | 1.4.3 | InfinityRaider |
| Antique Atlas | 4.2.2 | Hunternif, Kenkron |
| AppleCore | 1.1.0 | squeek502 |
| BiblioCraft | 1.11.4 | Nuchaz |
| Bibliocraft: BiblioWoods Natura Edition | 1.5 | Nuchaz |
| Carpenter's Blocks | 3.3.7 | Mineshopper |
| Chisel | 2.9.3.9 | tterrag1098, Drullkus, minecreatr |
| ChiselTones | 1.0-3 | TehNut |
| CodeChickenCore | 1.0.7.47 | ChickenBones |
| CompactStorage | 2.1.0 | tattyseal, Fuzew |
| Custom Main Menu | 1.9.2 | lumien231 |
| D3 Core | 1.0.31 | Dries007, DoubleDoorDevelopment |
| DecoCraft2 | 2.2.1 | RazzleberryFox |
| Dense Ores | 1.6.2 | RWTema |
| Ender Compass | 1.1 | MrIbby |
| Et Futurum | 1.4.4 | ganymedes01 |
| ExtraButtons | 1.7.10.1 | jaquadro |
| FastLeafDecay | 1.3 | Olafskii |
| FlatSigns | 2.1.0.19 | Myrathi |
| Forge Multipart | 1.2.0.345 | ChickenBones |
| FTB Utilities | 1.0.11 | FTB Team |
| FTBLib | 1.0.11 | FTB Team |
| Hopper Ducts | 1.3.2 | FyberOptic |
| INpureCore | 1.0.0B9-62 | INpureProjects |
| Inventory Tweaks | 1.59-dev-152 | Jimeo Wan, Kobata |
| JABBA | 1.2.1a | ProfMobius, Taelnia |
| Just Another Crafting Bench (JACB) | 1.0.4 | VanhalMinecraft |
| LavaBoat | 2.0.0 | NightKosh |
| Luppii's Ladders | 0.5.0-15 | Luppii, Aiqueneldar |
| Mantle | 0.3.2b | mDiyo |
| Mine & Blade: Battlegear 2 | 1.0.8.2 | Nerd_Boy, GotoLink, coolAlias |
| MineTweaker 3 | 3.0.10B | StanH |
| Morpheus | 1.6.10 | Quetzi |
| MrTJPCore | 1.1.0.31 | Mr_TJP |
| Natura | 2.2.0.1 | mDiyo, Samtrion, tterrag |
| NEI Addons | 1.12.14.40 | bdew |
| NEI Integration | 1.0.13 | tonius111 |
| Not Enough Items (NEI) | 1.0.5.118 | ChickenBones |
| Pam's HarvestCraft | 1.7.10i (1.7.10j) | MatrexsVigil |
| Project Red Core | 4.7.0pre9.92 | Mr_TJP, Eloraam |
| Railcraft | 9.6.1.0 | CovertJaguar |
| Resource Loader | 1.2 | lumien231 |
| Steve's Workshop | 0.5.1 | Vswe |
| Storage Drawers | 1.6.2 | jaquadro |
| Storage Drawers: Natura Pack | 1.0.4 | jaquadro |
| The Spice of Life | 1.2.4 | squeek502 |
| TorchTools | 1.2.0.27 | DoubleDoorDevelopment |
| WAILA | 1.5.10 | ProfMobius |
| Ztones | 2.2.1 | riciJak |
Official Feed The Beast modpacks

1.14 modpacks

1.12 modpacks

1.10.2 modpacks

1.9.4 modpacks

1.8.9 modpacks

1.7.10 modpacks

1.6.4 modpacks

1.5.2 modpacks

1.4.7 modpacks

1.4.2 modpacks

1.2.5 modpacks

Comparisons