As part of the Unified Community Platform project, this wiki and 38 others will be migrated to the new platform, with migrations beginning September 23rd at 7am CDT. Minimal changes are expected as part of this migration. Read more here.
Wireless RF Transmitter
Wireless RF Transmitter


Mod
Extra Utilities 2
Type
Solid block
Properties
Blast resistance
5
Hardness
1
The Wireless RF Transmitter is a block added by Extra Utilities 2.
The Wireless RF Transmitter draws Redstone Flux energy from a Wireless RF Battery and distributes the power wirelessly to energy consumers within a 4 block radius. The transfer is limited to 80 RF/t total. When right-clicked, the Wireless RF Transmitter will briefly display red particles to indicate connections to energy consumers.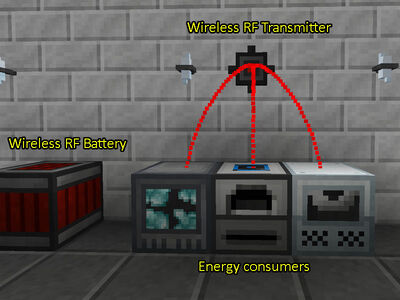 Extra Utilities 2
 

Blocks

GP generators

RF generators

Spikes

Drums

Trash Cans

Transfer

Misc devices

Terraformer/Climograph

Glass

Decorative

Components
 

Items

Angel Rings

Wands

Sickles

Weapons

Upgrades

Potions

Misc utilities

Components
 

Misc

Villagers

Enchantments

Trees

Misc