As part of the Unified Community Platform project, this wiki and 38 others will be migrated to the new platform in the next few weeks. Minimal changes are expected as part of this migration. Read more here.
Schraubenschlüssel (BuildCraft)
Auf diese Seite geht es um den BuildCraft Schraubenschlüssel. Für andere Verwendungsmöglichkeiten, siehe Wrench.
Schraubenschlüssel


Modifikation
BuildCraft
Typ
Werkzeug
Der Schraubenschlüssel von BuildCraft ist das primäre Werkzeug um die Ausrichtung der Rohre und Motoren von BuildCraft zu konfigurieren.
Rezept
Verwendung
Rohre
Der Schraubenschlüssel wird dazu verwendet die Ausrichtung von Hölzenen Transportrohren, Hölzernen Flüssigkeitsrohren, Eisernen Transportrohren und Eisernen Flüssigekitsrohren zu ändern. Ein Rechtsklick mit dem Schrauenschlüssel auf ein Holzrohr, welches zwischen zwei Maschinen oder Truhen verbaut ist, wechselt die Seite von der Gegenstände oder Flüssigkeiten gezogen werden.
Mit dem Schaubenschlüssel kann bei einem Eisenrohr die Ausgaberichtung für Gegenstände oder Flüssigkeiten geändert werden, da Eisenrohre mehrere Eingänge aber nur einen Ausgang besitzen.
Motoren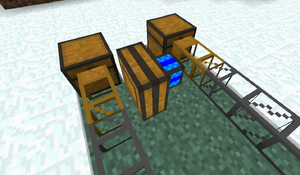 Der Schraubenschlüssels ändert die Ausrichtung von Motoren, sofern ein geeigneter Block dafür in der gegebenen Richtung existiert, wie beispielsweise Maschinen oder Rohre.
Thermal Expansion
Der BuildCraft Schraubenschlüssel ändert außerdem die Ausrichtung der Seitenflächen von Maschinen der Thermal Expansion Mod.
BuildCraft
 

Maschinen

Maschinen

·  ·  ·  ·  ·  ·  ·  ·  ·  ·  ·  ·  ·  ·  ·  ·  ·  ·  ·  ·  ·

 

·  ·  ·

 
 

Transport

·  ·  ·  ·  ·  ·  ·  ·  ·  ·  ·  ·  ·  ·  ·  ·

 

·  ·  ·  ·  ·  ·  ·  ·  ·  ·

 

·  ·  ·  ·  ·  ·  ·  ·

 

Andere Rohre

·

 

Lenses

·  ·  ·  ·  ·  ·  ·  ·  ·  ·  ·  ·  ·  ·  ·  ·

 

Filter

·  ·  ·  ·  ·  ·  ·  ·  ·  ·  ·  ·  ·  ·  ·  ·

 

Sonstiges

·  ·  ·

 
 

Ressourcen

Flüssigkeiten

·

 

·  ·  ·  ·  ·  ·  ·

 

·  ·  ·  ·  ·  ·  ·  ·  ·  ·

 

·  ·  ·  ·  ·  ·  ·  ·  ·  ·

 

·  ·  ·  ·  ·  ·  ·  ·  ·  ·

 

·  ·  ·  ·  ·  ·  ·  ·  ·  ·

 

·  ·  ·  ·  ·  ·  ·  ·  ·  ·

 

·  ·  ·

 

·  ·  ·  ·

 

Anderes

·  ·  ·  ·  ·  ·  ·  ·  ·  ·  ·

 
 

Roboter

Roboter

·  ·  ·  ·  ·  ·  ·  ·  ·  ·  ·  ·  ·  ·  ·  ·  ·

 

Redstone-Platte

·  ·  ·  ·  ·  ·  ·  ·  ·  ·  ·  ·  ·  ·  ·  ·  ·

 
 

Sonstiges

Werkzeuge

·

 

Pinsel

·  ·  ·  ·  ·  ·  ·  ·  ·  ·  ·  ·  ·  ·  ·  ·

 

Biome